When summertime comes, it can get uncomfortable at home. It's especially true if you have a non-functioning air conditioner. In Burbank, the temperatures in the summer can easily start at 30°C. Thus, having air conditioning in Burbank can make your life a lot easier in the summer. 
Unfortunately, though, an air conditioning unit can consume a lot of power. It's one reason your utility bills in the summer go up. 
Thankfully, there are many ways you can lower your AC bill while keeping yourself and your family comfortable at home. 
Ways to Keep You Cool When Reducing Your Bill for Air Conditioning in Burbank 
Turn Your AC Off at Night
You can turn it on an entire day but make sure to turn it off at night. Now, you might wonder how you can sleep comfortably at night when you don't have an AC. 
The good thing is that the evening air is a lot cooler. You can always open a window to let the natural cool air in. Or you can use an electric fan. 
Set Your Thermostat Properly 
Every degree matters when it comes to your energy bill during the summer. But if your AC is on the entire day and night, it can affect your utility bills. 
One way to ensure that your AC runs efficiently is to set your thermostat at a comfortable temperature. It's not too cold or too hot. 
Set the temperature in a way that the AC won't work too hard. You can set it between 22°C and 24°C. Avoid setting it at less than 8°C below the outdoor temperatures. 
In that case, if the outside temperature is 35°C, aim for 28°C inside. 
It's also ideal to invest in a programmable thermostat if you don't have one yet. This tool is useful in reducing your energy bill as it has a built-in timer. This feature lets you set the hours of operation for optimal energy efficiency. 
After setting it, the system will just save and set it automatically for you next time.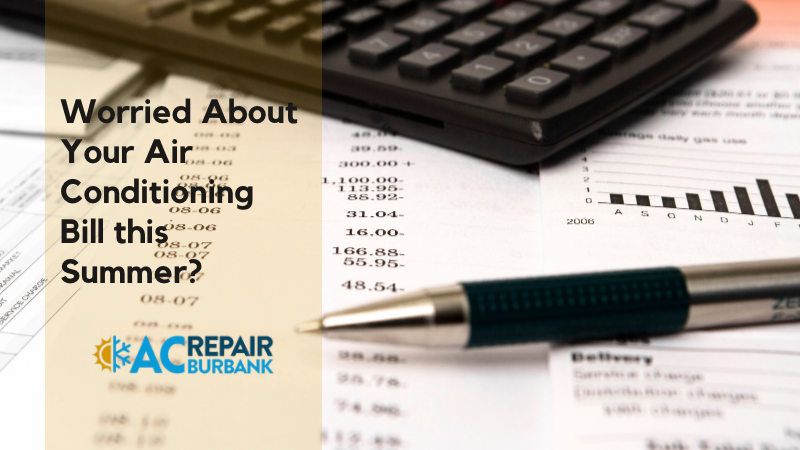 Add Some Shade 
To ensure that your air conditioning won't work too hard in the summer, make sure to add some shade to your house. 
To get shady, you may keep the curtains and drapes drawn and closed. This will help keep the sunshine out. Blinds and curtains can deflect sun heat. 
By following this tip, you can keep the hot air out so your AC won't have to run all the time. It can drastically reduce your AC bill. 
You should also consider planting trees that can add shade to your house. 
Repair Your AC 
If your AC is not well-maintained, it can surely affect your utility bills. Thus, before the summer comes, make sure to have it repaired or maintained. 
Hire our specialists in air conditioning in Burbank to determine the status of your AC. They can also fix any issue that the system is currently facing before it gets worse. Call us to schedule an appointment: 818-214-8525.