Having an air conditioner at home is a boon as it can give you a comfortable temperature. However, an AC unit won't last that long if you don't maintain it properly. That's why in this post, our AC installer Burbank team collated the top tips that will increase the lifespan of your air conditioning unit. 
AC Installer Burbank Maintenance Tips 
Replace Filters 
This is the most important routine maintenance you need to do and must never forget. 
How often to replace the filters will depend on your AC. Check your user's manual. 
What happens if you don't replace them as recommended? 
Filters can get clogged. When they are dirty and clogged, normal airflow will be blocked, thereby, reducing the unit's efficiency. 
Furthermore, filters can't do their job properly in filtering harmful organisms. In that case, the air that gets through an obstructed filter is unclean.
It means that you're inhaling filthy air which can adversely affect your health. That's not all, it will also affect its energy consumption, thereby, causing a spike in your energy bill. 
Clean the Coils 
The evaporator coils of your AC can accumulate dirt over the months and years of using the unit. Even if you frequently clean the filter, the coil will still collect dirt over time. 
When there's too much dirt in the evaporator coil, it reduces properly airflow. It also insulates the coil causing a reduction in the unit's ability to absorb heat. 
The outdoor condenser coil can be dirty if it's located outside. Check the coil's fins and clean it properly. 
You can minimize dirt and debris accumulating in the condenser coil by cleaning the area around it. Remove any debris and ensure that there's no foliage at least 2 feet around the condenser. 
Coil Fins 
The condenser and evaporator coils have aluminum fins. They are easily bent. If that happens, it causes blockage. You may purchase a fin comb that will fix the fins and get them back to their original condition. 
On the other hand, you may call our AC maintenance team to fix the bent coil fins. Our technicians will also properly clean your air conditioning unit. 
And if winter is coming, they'll prepare your air conditioning for the colder months. When preparing your AC for winter, you may cover your AC or remove it. The outdoor unit must be properly protected from weather and debris. 
More Than Just Regular Maintenance
In some cases, your air conditioning unit requires more than just regular maintenance. And this is where hiring a professional AC technician becomes useful.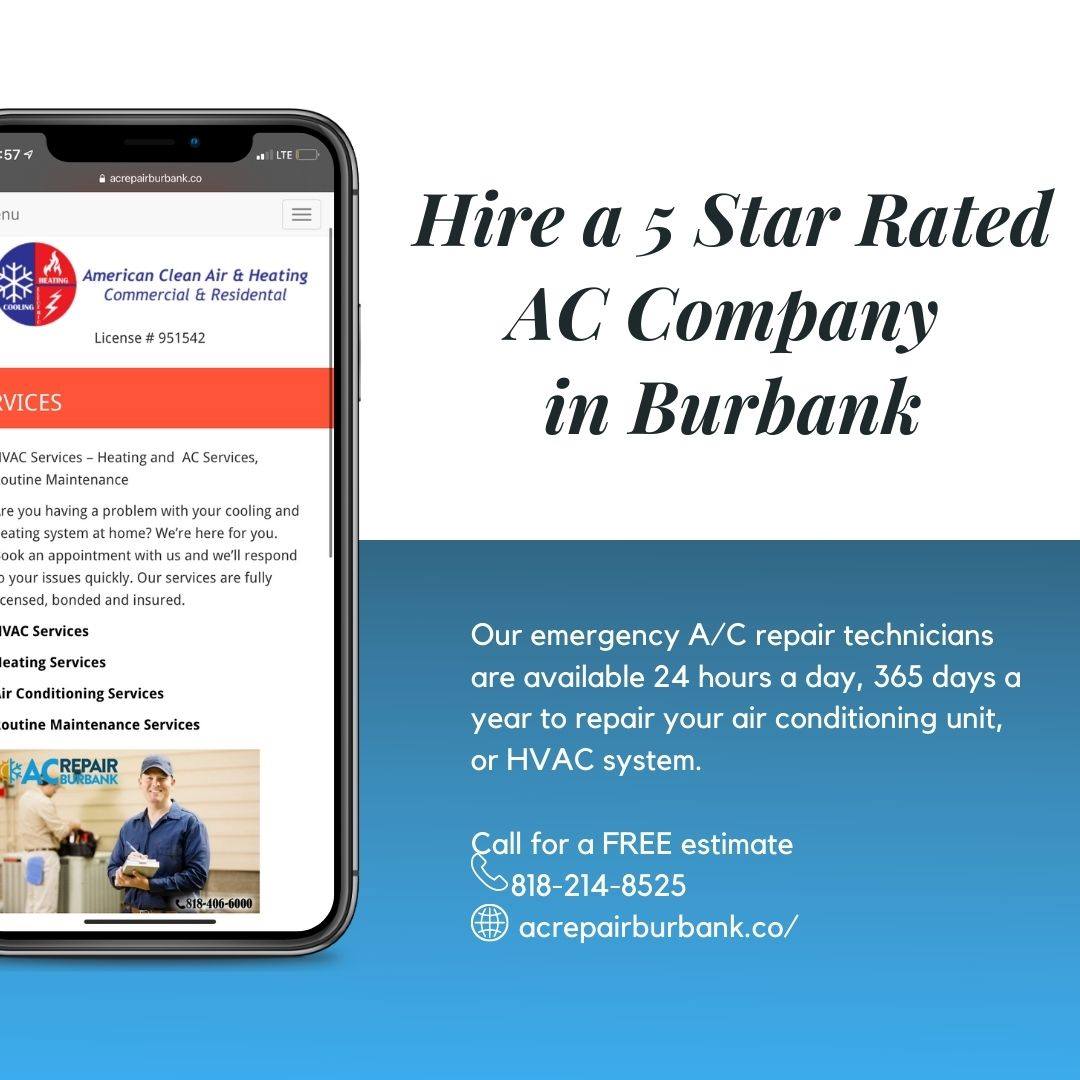 The well-trained technicians at American Clean Air and Heating will fix any issues in your AC. They will also check the amount of refrigerant present in your unit. 
Our technicians will also test for any refrigerant leaks and check for seal duct leakage. 
There are plenty of things that our AC installer Burbank team can do to ensure that your air conditioning unit will operate optimally. Give us a call today if you need to schedule an appointment with our technicians or get a free estimate: 818-214-8525.